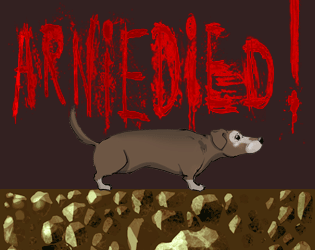 After trying to get "ARNIE DIED!" made for over a year now, I have some good news finally! "ARNIE DIED!" will be releasing on Steam and all other major distros in March 2018. You can find a screenshot dump from our concept art here, the actual game will look much different but you can see Arnie himself and some of his enemies in the concept art.
The art is once again being done by my long time comic book artist SaintYak, he is an amazing artist and you can find him on Instagram https://www.instagram.com/saintyak/ and Facebookhttps://www.facebook.com/saintyakart/
Moving forward I'll be updating this devlog at least 3 times a week, and it'll be a very active devlog, so here's a list of details for the game.
Gameplay:
ARNIE DIED! is a platformer with capture the flag elements, in the game you will be tasked with retrieving Arnie's ball and returning it to his dog house while avoiding enemies and environmental hazards. Arnie has the ability to piss fire, as well as shit out doggy shit bombs.
Progression:
ARNIE DIED! will have upwards of 30 levels or more on launch, progression is made by completing levels to unlock more. As of now we're thinking of doing the old school "3 deaths 3 continues and then you're DEAD" to make it more interesting, but i'm not sure how that will go over in today's gaming climate of "I want unlimited deaths and easy access to the entire game!!!" I'd love to hear opinions on this, please leave comments.
Visuals:
Visually I'm known for making dark atmospheric games ("The Lady", "The Grandfather"), ARNIE DIED! will continue with the atmospheric style. The game is grid based and I have several environmental tile types and themes. Originally it was going to be very colorful like an acid trip, but now I'm considering going with a more desaturated look Most of the game will take place in the snow.
Difficulty:
Our goal with difficulty level is along the lines of games from the NES, if you're old like me you'll remember games used to actually be hard back in the 80's.
Audio:
ARNIE DIED is going to have a John Carpenter synthesizer style soundtrack, composed by James Spanos, who worked on the cult classic indie game The Cat Lady. This will be my first game that I don't make the entire soundtrack for myself, but I'll be contributing to the soundtrack as well to give it the usual noise core ambient element.
TWITCH:
In the near future the programmer and I will be doing dev sessions on my new Twitch Channel hopefully https://www.twitch.tv/mikeypoosgames
Well that's about it for this update, give my Devlog a follow, it'll be very active with a lot of content INCLUDING EARLY ACCESS BUILDS leading up to release.
Follow Mikepoo's Games on all social media platforms
Website: http://www.mikeypoo.com/
Twitter: https://twitter.com/mikeypoosgames
Facebook: https://www.facebook.com/Mikeypoos-Games-338653649936584/
Instagram: https://www.instagram.com/mikeypoosgames/
Twitch: https://www.twitch.tv/mikeypoosgames
YouTube: https://www.youtube.com/channel/UCqPjDClLrXJ3-gYTnS48BMg?view_as=subscriber

Buy Mikeypoo's Games on Steam: http://store.steampowered.com/search/?developer=Mikeypoo%27s%20Games

TUMBLR: https://mikeypoosgames.tumblr.com/

IMGUR: https://imgur.com/user/MikeypoosGames